When the Environmental Stewardship Scheme (ES) opened for applications back in March 2005, it was a renewed opportunity for farmers to introduce another revenue stream into their business for income forgone by changing their systems to a more environmentally friendly way. The scheme benefitted all different types of farmers from the uplands to the lowland and both livestock and arable. There were opportunities to enter in to either an Entry Level Stewardship (ELS) or a Higher-Level Stewardship (HLS) with schemes running for either five or 10 years.
The ES scheme was replaced by the Countryside Stewardship (CS) Scheme in 2015, with a few minor changes to make it more 'straight forward and easier to apply for'. This scheme has now run for seven years with this year being the final year for applications for a scheme to start in 2024. The CS schemes have been updated and payment rates increased in recent years to account for inflation and increased input costs for farming businesses in the challenging times.
Is it time for a change?
With many HLS agreements having rolling start dates and the new CS schemes all starting on the calendar year, many agreement holders have been stuck in limbo these past few years when agreements were due to end in the middle of the year, but a new scheme could not start until the following year. This would have left some farmers with a big hole in their income streams, and with decreasing BPS payments it may not have been a viable option to finish an existing scheme to then enter a new scheme the following year. This has led to a larger number of agreement holders taking agreement extension offers year-on-year to keep the revenue stream going.
Earlier this year, the RPA announced some new changes due to come in to place as of January 2023.
· HLS schemes can be extended for a five-year period rather than annually
· HLS agreement holders can leave their scheme early, without penalty, if they are offered a place on another environmental scheme
This now means that as of now, agreement holders can look to extend their agreement for another year so there is no payment fallow period; all whilst applying for a new CS scheme that will start on 1st January 2024. It also means that agreement holders can secure their income stream for another five years with this extension offer if they are happy with the agreement and how it is running
What are the opportunities?
James Oliver, Associate and Farm Business Consultant said "Farming is an ever progressing and changing industry and some farmers no longer farm in the same way they did 10 years ago. The new rule changes can allow agreement holders a chance to review their farming practice and implement changes to their farming business. Entering a new scheme can also offer farmers a 'clean slate' to start a new scheme from, with no repercussions from their 10/sometime 14 year scheme. All agreement holders are eligible for the CS capital grants but if you are an existing scheme, there can sometimes be cavities as to what can be applied for, as well as each capital grant stream being capped at £20,000. If you enter a new CS Mid Tier scheme these monetary caps rise to £50,000 for Hedgerow and Boundaries and £120,000 for Water Quality. If you are able to enter a CS Higher Tier there is no cap. Natural England has also made the whole of England eligible for Catchment Sensitive Farming Advice which can potential lead to improvements on holdings by improving water quality."
With the changes to payment rates, some CS options now are more lucrative than their ES equivalents as shown in the examples below.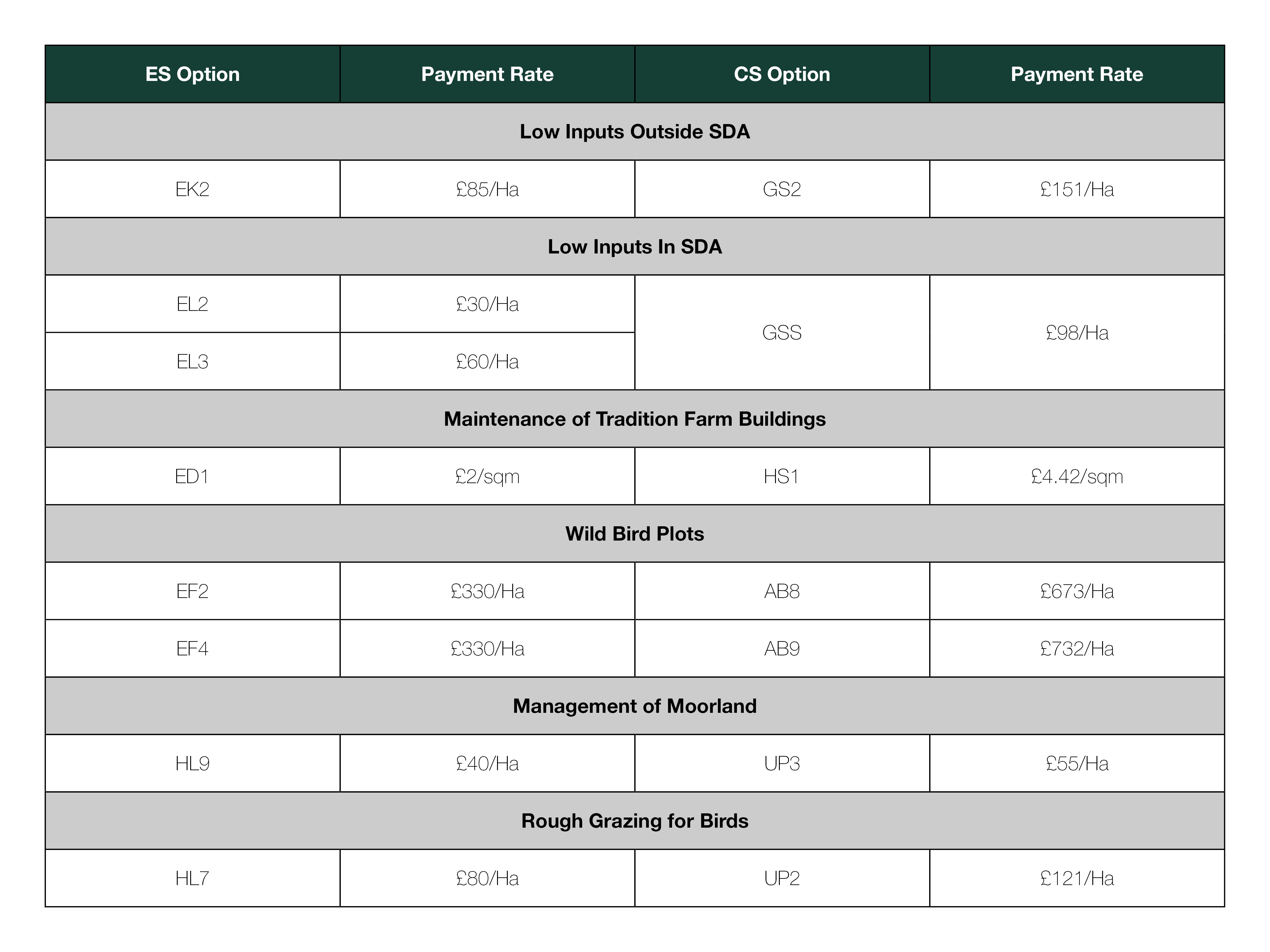 What next?
With this year being the final year for CS applications, it is the last chance to enter into a CS scheme. There are new schemes around the corner such as the Sustainable Farming Incentive (SFI), Local Nature Recovery Scheme (LNR) and Landscape Recovery Scheme (LR) but with no payment rates, options, prescriptions, or requirements published, we are still quite in the dark as to how these will look.
Due to this, we are anticipating a bumper number of applications for the CS scheme when it opens in 2023. Due to limited numbers of staff within Natural England, local Catchment Sensitive Farming Advisory Groups and Historic England, we strongly advise agreement holders to have an in-depth review of their agreement and see what their options are and act accordingly.
At George F. White, we have a highly skilled team of Rural Consultants who can assist in reviewing existing agreements and offer assistance and advice in applying for new schemes to benefit the business going forward. If you would like further details of the agri-environmental schemes on offer, please contact either James Oliver on 07595057140 or Elliot Taylor on 07590445301 to arrange a consultation.